ZTE Outdoor 5G CPE Bundle
ZTE Outdoor 5G CPE Bundle Router MC 889 and WiFi 6 Router T3000
The ZTE MC 889 router is installed outside the property in order to enhance indoor coverage
The ZTE's New Generation 5G outdoor CPE antenna is paired with a WiFi 6 T3000 router to allow customers to experience the highest quality connection, optimal speeds and wide coverage inside their home without any interferences
The outdoor router is compact size, lightweight and weatherproof
Free installation by Ooredoo
ZTE Miracle Wi-Fi 6 Router
Do you suffer from weak 5G coverage inside your home?
The ZTE New Generation 5G Outdoor CPE MC889 router
is installed outside your house and positioned to create a
reliable, high speed connection for the highest quality
signal and speed experience inside your home.

Is this product right for you?
This product is ideal for any customer who suffers from
any of the following connection issues...
1. 5G Internet signal is blocked by concrete walls or neighboring buildings
2. Weak 5G connection in your basement
3. Poor 5G connectivity in a high-rise building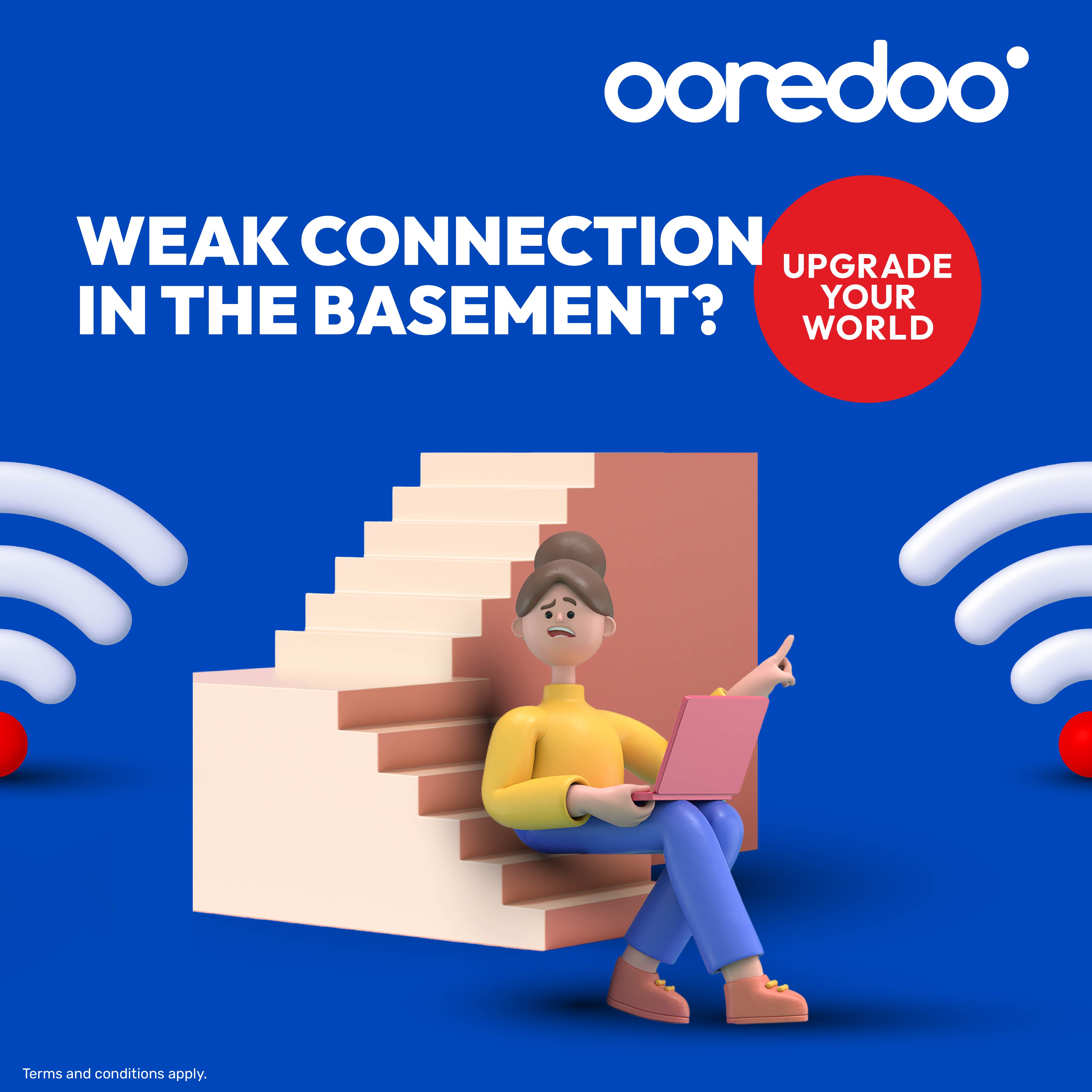 What does the bundle Include?
1. ZTE New Generation 5G Outdoor CPE Antenna
2. WiFi 6 T3000 Indoor Router
3. 10 meters of Free Cabling.

Does the bundle include a mesh?
A mesh pack is not included.
However you can add a 5G mesh (3-Pack) starting
at just 3KD per month with Ooredoo Add,
to provide a seamless WiFi coverage across your home.

How much does installation cost?
Installation is free by Ooredoo.
(Additional charges may apply for any additional
cabling or equipment required)


What will happen after I place my order?
1. An Ooredoo sales representative will call you to confirm your order and delivery
2. An Ooredoo Technical representative will call you to schedule an appointment for
installation
3. Our technical team will install the devices at your home and ensure you
have the best possible 5G signal
4.Lastly, enjoy the highest quality connection, with optimal speeds and wide coverage
inside your home without any interferences!

Is there a warranty on the devices provided in the bundle?
Yes, you can enjoy a one-year warranty on all devices included in the bundle
More Information
Monthly instalment price
24 Months
Specification

ZTE MC889 DL 5G Router up to 2.7 Gbps/ UL up to 280 Mbps, Category 16 in 4G: with 2.5 Gbps POE port.
✅ Features a 6.5dBi high-gain internal antenna.
✅ ZTE T3000 Dual Band WiFi 6 Router 4 RJ45 Ports, 4 x 7dBi Antennas
✅ Latest generation outdoor 5G modem, waterproof
✅ NEW DESIGN: Compatible with all operators in the frequencies indicated


ZTE MC889 5G Exterior

This new 2023 model is designed for installation outside buildings, it is weatherproof. It directly integrates modem + antenna and is powered by POE via an ethernet cable.


Key Features:

Compatible with 5G frequencies in NSA and SA mode (Non Stand alone and Stand Alone) in bands n1/3/7/8/20/28/38/40/75/77/78 and 4G in bands B1/3/7/8/20/28/32/38/40/42/43, 3G B1 and B8.

In 5G, download up to 2.7 Gbps and upload up to 280 mbps (depending on the operator's network), 5G + LTE, sub6G DL: 4MIMO, 4G DL: 8 layers.

In 4G, Category 19,256 QAM download up to 1 Gbps and upload up to 150 mbps (depending on the operator's network), aggregation of up to 5 frequencies at a time 5CA. LTE 4MIMO

2G is not supported on this model.

Qualcomm SDX62 Chipset

1 POE Gigabit (10/100/1000/2500) RJ45 ports

Information page with Cellid, RSRP, RSRQ and SINR to know the signal strength and the transmitter you are depending on.

Includes PP2P / L2TP firewall and VPN.

Slot for NanoSIM 4FF sim card, 1 WPS button, 1 RESET button, 3 Signal LEDs, 1 Network LED, 1 LAN LED, 1 Power LED.

Dimensions (mm): 189.6*108.8*31.2mm, weight 500 grams

ZTE T3000 (AX3000 pro) Indoor WiFi Router

The ZTE T3000 also known as the AX3000 pro is a WiFi 6 router with a stronger signal. It allows theoretical maximum data rates of 3,000 Mbps, features ultra-high gain 7 dBi antennas for wider coverage. It has Easy Mesh functionality, NFC technology. It allows up to 128 users connected simultaneously.

Key Features:

160 Mhz Bandwidth

zLink Boost Dual Channel Fusion

4 x 7dBi high gain antennas, cover all rooms and all scenarios in 2.4Ghz and 5Ghz frequencies simultaneously.

Easy Mesh one-click connection: seamless coverage and automatic Wi-Fi roaming

One-touch Smart NFC: Speed up Wi-Fi connection for Android smartphones with NFC.

T3000 won the Good Design Award 2021 and 2022

Operating temperature: -20°C to +55°C

WiFi 802.11 a/b/g/n/ac/ax 2.4Ghz 2x2 MIMO and 5Ghz 2x2 MIMO, AX3000, OFDMA, MU-MIMO, BSS coloring, TWT, Bandsteering, 1024 MAQ

IPQ5018 + QCN6102 + QCA8337 Chipset

4 Gigabit 1000mbps ports

1x DC470 (12V)

PP2P/L2TP/IPSec Firewall

Compatible operating systems: iOS, Android, Windows, Linux

Dimensions: 245 x 130 x 37mm