Bang and Olufsen Beosound Explore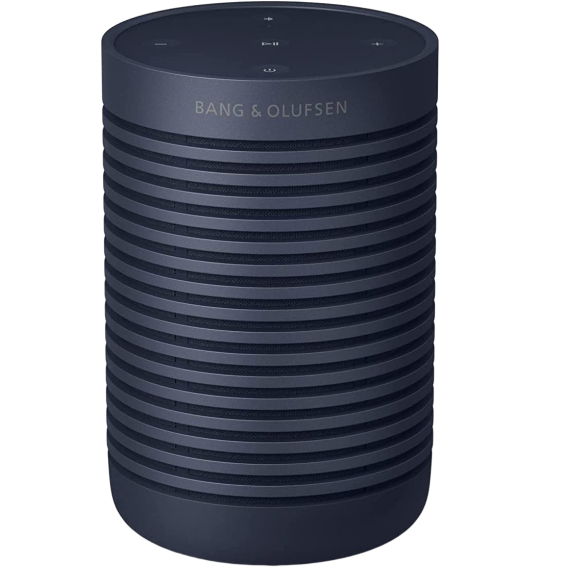 Order online and enjoy the best portable speaker
Buy online through KNET, Credit Card or easy installments on Ooredoo ADD
This is your new selected number
Number Expires in 11 : 20s
Change Your Auto Selected Number
Enter a minimum 3 digits to search
Outdoor Music Speaker.

Take your music with you anywhere. Beosound Explore is a rugged outdoor speaker designed to let you enjoy powerful sound in all your favourite settings. Powerful 360 sound and surprisingly big bass for such a lightweight design, this outdoor speaker is perfect for experiencing magical moments. Whether listening to a podcast in your garden or enjoying a hiking trip with friends, enjoy superior sound on the go
Ultra-portable speaker
Lightweight and featuring a grab-and-go compact shape, Beosound Explore easily fits into backpack pockets. Or, hang it from the exterior with the durable straps and included carabiner
With a powerful midrange and bass for such a small speaker, Beosound Explore also features True360 sound. Enjoy music the way it's meant to be heard, wherever you place your speaker. Designed to make sure you can enjoy music without running out of battery when you're outdoors, Beosound Explore offers up to 27 hours of playtime on a single charge. Waterproof and dust resistant, Beosound Explore also features a hard anodised aluminium shell for extra resistance to scratches and an interior designed to provide drop resistance for up to 1.5 metres.
Exceptionally Excellent
Portable, tough and ready to go - Beosound Explore is a small outdoor speaker perfect for all of life's adventures. With surprisingly deep bass and powerful sound for its size, Beosound Explore also features 360-degree sound - ideal for playing music outdoors and making it an excellent garden speaker as well as hiking companion.
The durable outer shell is made from hard anodised aluminium and the design is dust and waterproof with an IP67 certificate. Beosound Explore is also able to withstand up to half an hour submerged in a metre of water as well as falls of up to 1.5 metres. The push controls are located on top of the speaker for quick access and are designed to be easy to use even in wet, dirty or sandy conditions - even when you're wearing gloves. The minimalist, grabble design and compact size means Beosound Explore fits into any outdoor or hiking kit. And with a powerful battery offering up to 27 hours of playtime at normal listening volume, you're free to pack up and explore